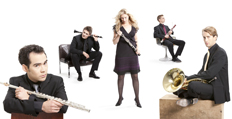 The Weimarer Bläserquintett achieved its most notable success up until that time in 2006 by winning Third Prize at the ARD International Music Competition. In 2010 the ensemble's high artistic quality was again confirmed in competition when it was awarded a prize winner's scholarship for performing in the Young Artists's Concerts at the German Music Competition.
The City of Weimar, whose cultural traditions are taking the five young musicians along new pathways, is both the artistic as well as inspirational birthplace for the five young musicians.
Tomo Andreas Jäckle (flute), Frederike Timmermann (oboe), Sebastian Lambertz (clarinet), Stephan Schottstädt (French horn) and Jacob Karwath (bassoon) made their debut as a quintet in 2002 at the nationwide youth competition "Jugend musiziert"—and did so with outstanding success, winning a First Prize with a perfect score. Their further intensive cooperation was again rewarded only two years later at international level: when they won First Prize at the European Music Prize for Youth in Dubrovnik. In addition, the jury recognized the excellent ensemble playing of the quintet with a Special Prize for Best Performance. In 2005 this was followed by Third Prize at the Interlaken International Chamber Music Competition.
Since then the ensemble has appeared in recital at important concert venues, including among others performances at the Cologne Philharmonic, the Konzerthaus Berlin, the Tonhalle Düsseldorf, the Beethovenhalle Bonn and Munich's Herkulessaal. In addi-tion, the quintet has already appeared at numerous festivals and well-known chamber music series such as the Schleswig-Holstein Music Festival, the Festspiele Mecklenburg-Vorpommern, the Mozartfest Würzburg, the Zermatt Festival—where it also performed with the Scharoun Ensemble Berlin—and the Traunstein Sommerkonzerte, including recitals with pianists Prof. Ian Fountain and Silke Avenhaus. The Weimarer Bläserquintett is supported by the Deutsche Stiftung Musikleben and the Friedrich- Jürgen-Sellheim-Gesellschaft. Two voyages on the world's most luxurious cruise ship—the MS Europa—as well as a performance for the President of Germany at Villa Hammerschmidt (official residence of the President) round out the exclusive venues where they have appeared.
The Artist's Homepage:
http://www.wbquintett.de

In Good Company / Rubén Durá de Lamo - Tuba

Works by C. Danielsson, A. Russell, H. Tomasi, W. Penn, M. Gaathaug

Rubén Durá de Lamo, Tuba - Ensemble Schwerpunkt - Yuval Wolfson, Bass trombone - Kervin Guarapana, Horn - Weimarer Bläserquintett - Trombone Unit Hannover, Trombone Ensemble - Sabrina Ma, Percussion

| | |
| --- | --- |
| GEN 15336 | |
Weimarer Bläserquintett

A Recital Experience - Works by W.A.Mozart, P.Haas, F.Danzi, E.Carter and P.Taffanel

Weimarer Bläserquintett

| | |
| --- | --- |
| GEN 12225 | |