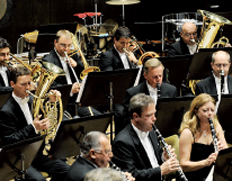 Sächsische Bläserphilharmonie
When looking at the history of European music, one sees the long tradition of independent music making for diverse wind ensembles, both liturgically and secularly. The range spans from the diverse ways of the town piper and the music of the council and court, over to the genres of classical Harmoniemusik and the romantic wind serenade, and up to the tutti sound of the modern symphony orchestra. There are countless composers and ensembles whose names are associated with this genre.

Linking itself to this rich heritage for more than a half century, the Saxon Wind Philharmonic is the only German classical ensemble specializing in such music. Faithful, lively interpretations and instrumental perfection ensure great public appeal and demonstrate the high artistic standards that the ensemble sets upon itself. The orchestra's own academy, founded in 1995, is a testament to the pedagogical ethos of the Philharmonic Wind Orchestra and its commitment to continuity.

With Thomas Clamor as its principal conductor since 2001, the orchestra has taken significant artistic steps towards its recognition as a symphonic concert orchestra. Acclaim by both the public and critics for CD, DVD and TV productions as well as an increased number of concerts, both in Germany and abroad, define the increased standard of quality.

The orchestra has served numerous times as a cultural ambassador on concert tours to China, Venezuela and Australia. In cooperation with the public music education program in Venezuela, known worldwide as El Sistema, as well as with Notenschlüssel zur Integration ("Keys for Integration"), a sustainable and highly publicized musical project in Germany, the musicians offer up-to-date impulses through the unique possibilities of a creative orchestral community.
The Artist's Homepage:
http://www.saechsische-blaeserphilharmonie.de

British Classics

Works by Byrd, Handel, Purcell, Holst, Vaughan Williams and Elgar

Sächsische Bläserphilharmonie - Andreas Martin Hofmeir, Tuba - Thomas Clamor, Conductor

| | |
| --- | --- |
| GEN 20658 | |
Hansel und Gretel

Excerpts from the Opera by Engelbert Humperdinck

Thomas Clamor, Conductor - Sächsische Bläserphilharmonie - Caroline Schnitzer - Anne Petzsch - Leevke Hambach - Josephin Queck - Frederik Tucker

| | |
| --- | --- |
| GEN 18619 | |
Philharmonic Profile

2010-2018

Sächsische Bläserphilharmonie - Thomas Clamor, Conductor

| | |
| --- | --- |
| GEN 18630 | |
The First Noël

A Fine Christmas Selection by GENUIN classics

Musica Lingua - Anna Christiane Neumann, Piano - MDR Rundfunkchor - Ramón Ortega Quero, Oboe - Marburger Bachchor - Quintessenz, Flute ensemble - Ensemble Nobiles - Daniel Beilschmidt, Organ - Mark Schumann, Cello - Annette Unternährer-Gfeller, Organ - Sächsische Bläserphilharmonie - german hornsound, Horn Quartet - Barbara Kortmann, Flute - Jaime González, Oboe - Thomas Clamor, Conductor

| | |
| --- | --- |
| GEN 17487 | |
Russian Classics

Works by Mikhail Glinka, Dmitri Shostakovich, Pyotr I. Tchaikovsky, Sergei Prokofiev and Igor Stravinsky

Sächsische Bläserphilharmonie - Thomas Clamor, Conductor

| | |
| --- | --- |
| GEN 17480 | |
Winds and Pipes

Music for Symphonic Wind Ensemble and Organ by Peeters, Trachsel, Guilmant, Gigout, Gabrieli and Bach

Sächsische Bläserphilharmonie - Daniel Beilschmidt, Organ - Thomas Clamor, Conductor

| | |
| --- | --- |
| GEN 16445 | |
Images and Mirrors

Works for Cello, Saxophone Quartet and Wind Orchestra

Sächsische Bläserphilharmonie - Peter Bruns, Violoncello - clair-obscur, Saxophone Quartet - Thomas Clamor, Conductor

| | |
| --- | --- |
| GEN 16419 | |
Alma Llanera - Soul of the Plains

Venezuelan Music

Sächsische Bläserphilharmonie - Alma Llanera Quintet - Thomas Clamor, Conductor

| | |
| --- | --- |
| GEN 15358 | |
Saxony

Works by Johann Sebastian Bach, Felix Mendelssohn Bartholdy and Richard Wagner

Sächsische Bläserphilharmonie - Thomas Clamor, Conductor

| | |
| --- | --- |
| GEN 15333 | |
Symphonic Dances

Works by Dvorák, Mussorgsky, Offenbach, Strauss, Tchaikovsky and others

Sächsische Bläserphilharmonie - Thomas Clamor, Conductor

| | |
| --- | --- |
| GEN 14307 | |
Classiques français

Works by Paul Dukas, Georges Bizet, Jean Françaix and Maurice Ravel

Sächsische Bläserphilharmonie - Thomas Clamor, Conductor

| | |
| --- | --- |
| GEN 13291 | |
American Classics

Leonard Bernstein, George Gershwin, Henry Mancini

Sächsische Bläserphilharmonie - Thomas Clamor, Conductor - Ines Agnes Krautwurst, Vocals

| | |
| --- | --- |
| GEN 12247 | |
Festivus

Symphonic Classics

Sächsische Bläserphilharmonie - Thomas Clamor, Conductor

| | |
| --- | --- |
| GEN 11221 | |