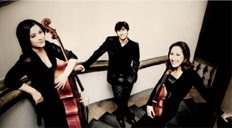 Since its foundation in 2005 the Leibniz Trio has delighted audiences and critics with honest and intelligent interpretations of the piano trio repertory. The ensemble has been praised for its understanding of different musical styles, and for its expressivity and cohesion. The name Leibniz Trio was chosen because of the city Hannover, in which the group was originally formed, and in reference to the philosopher and mathematician Gottfried Wilhelm Leibniz, who worked and was buried there.

The trio was a prize winner at competitions in Pörtschach, Vienna, Weimar and most recently at the 2010 German Music Competition in Bonn. In 2006 the trio gave the first performance of Joseph Finlay's Piano Trio in London and subsequently played this work frequently in Germany, Austria and Belgium.

The trio has been coached by Ulf Schneider, Hatto Beyerle and Harald Schoneweg and has participated in the European Chamber Music Academy, which supports and helps promising young ensembles from across Europe in their musical development. Furthermore, the trio has worked with the Florestan Trio in master class courses in London and at the Britten-Pears Academy, and recently began a master program studying with the Alban Berg Quartet in Cologne. 2011 will see the release of the Leibniz trio's two new CD recordings on the Genuin label, a recording of works by Mendelssohn and a collection of works by Dvorak, Frank Martin and Joseph Finlay. The trio has performed at the Schleswig-Holstein Musikfestival, the Festspiele Mecklenburg-Vorpommern, and the Ludwigsburger Schlossfestspiele and their performances have been broadcast by SWR, MDR, HR and Deutschlandradio. In Spring 2011 the trio toured England under the auspices of the 'Music in the Round' concert series. The young musicians are also committed members of the Yehudi Menuhin Live Music Now! Scheme, through which they regularly play in schools, hospices and care-centres for people who would otherwise be unable to attend concerts.

Felix Mendelssohn

Piano trios in D & C minor

Leibniz Trio - Nicholas Rimmer, Piano - Hwa-Won Pyun, violin - Lena Wignjosaputro, cello

| | |
| --- | --- |
| GEN 12241 | |
Leibniz Trio

Works for Piano Trio by Antonín Dvorák, Joseph Finlay and Frank Martin

Leibniz Trio - Nicholas Rimmer, Piano - Lena Wignjosaputro, cello - Hwa-Won Pyun, violin

| | |
| --- | --- |
| GEN 11208 | |