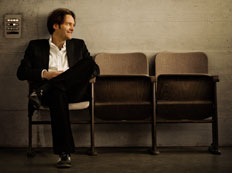 Born in Reutlingen, Germany in 1973, Yorck Kronenberg received his earliest instruction on the piano from Paul Buck in Stuttgart, and subsequently studied piano with Konrad Elser. He became known to a wider audience when he won the "Johann Sebastian Bach" international piano competition in Saarbrücken in 1998. A year later he received the Special Prize of the nationwide Wartburg Piano Competition in Eisenach, Germany.
Invitations followed to festivals such as the Mainz Musiksommer, the Schwetzinger Festspiele, the Schleswig-Holstein Music Festival, and the Roque d'Antheron Piano Festival. In addition to this he took part in numerous radio productions—including his recording of the piano concertos by Karl Amadeus Hartmann and Igor Stravinsky with the SWR Rundfunkorchestrer, Kaiserslautern under Paul Goodwin in 2004/2005. His recording of several piano concertos by Joseph Wölfl with the same orchestra under the baton of Johannes Mösus will be released in 2008.
Currently, four recordings are available: Two CDs with piano compositions by J. S. Bach, a recording of modern classical works (on the Ars Musici label) as well as a CD of the final two piano sonatas by Beethoven and Schubert, released by Sony BMG in 2005. His recordings of Johann Sebastian Bach's Chromatic Fantasia and Fugue and the Italian Concerto, reYorck Kronenbergleased in 2002, were included with recordings by Glenn Gould and Leif Ove Andsnes in the "Selections of the Year 2002" on German radio station SWR2's "Plattenprisma" program.
Yorck Kronenberg is also active as a composer and writer as well. He has participated in master classes with teachers such as Luciano Berio, and his work "Nachtstück" was first performed on the Saarländischer Rundfunk radio station as well as in concert in the US. The Neue Zürcher Zeitung has said of his debut novel "Welt unter," published in 2002 by Edition Nautilus: "In his first work, Yorck Kronenberg has succeeded in presenting a thoroughly captivating and suggestively themed nocturne." His story "Gegenlicht" appeared in 2005 in an anthology published by the Klaus Wagenbach publishing house. In 2007, the Literarisches Colloquium Berlin awarded him a working grant. He was accepted into the author support program of the Stiftung Niedersachsen in 2008.

The Artist's Homepage:
http://www.yorck-kronenberg.de/

Johann Sebastian Bach

Piano Concertos BWV 1052-1058

Yorck Kronenberg, Piano - Zürcher Kammerorchester

| | |
| --- | --- |
| GEN 14323 | |
Piano Works by Johannes Brahms

Movimentos edition – A new GENUIN line Musicians of the Future Appear at Movimentos Festwochen in the Wolfsburg Autostadt

Yorck Kronenberg, Piano

| | |
| --- | --- |
| GEN 88123 | |