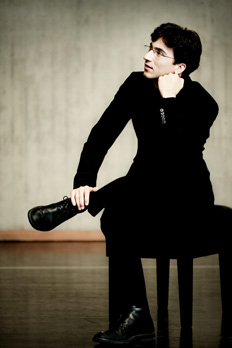 Born in Wigan, England in 1981 into a family of German and English descent, Nicholas Rimmer is one of the most sought after chamber music pianists of his generation. He developed a diverse musicality at an early age, and studied not only piano but also Composition, Harmony and Conducting as a junior student at the Royal Northern College of Music, subsequently taking his degree in Musicology at Clare College, Cambridge from 2000 to 2003. Rimmer also toured internationally as organist for the renowned Clare College Choir, gaining critical acclaim for his recording of the John Rutter Requiem on the Naxos label.
At this time, he began intensive study of the song repertoire, gaining important insights from such leading accompanists as Roger Vignoles, Malcolm Martineau, Justus Zeyen, Wolfram Rieger, and Irwin Gage. In 2005 he was awarded First Prize at the Birmingham Accompanist of the Year Award, and has performed with many singers of his generation at festivals such as Aldeburgh, Aix-en-Provence, Leeds, and Mecklenburg-Vorpommern, as well as making his debut at London's Wigmore Hall.
Since winning First Prize at the 2006 German Music Competition, he has frequently performed with violist Nils Mönkemeyer in highly successful recital appearances throughout Germany. Their success is documented by this CD as well as live concert recordings with several radio broadcasters.
Nicholas Rimmer continued his piano studies with Christopher Oakden at the Hochschule für Musik und Theater, Hannover. His interest in chamber music led to the founding of the Leibniz Trio in 2005 which—inspired by the European Chamber Music Academy, and especially by working with Hotto Beyerle and Ulf Schneider—has won several competition prizes and performs at concert venues worldwide.


Rest, my Soul!

Lieder by Richard Strauss

Katharina Persicke, Soprano - Nicholas Rimmer, Piano

| | |
| --- | --- |
| GEN 15379 | |
Felix Mendelssohn

Piano trios in D & C minor

Leibniz Trio - Nicholas Rimmer, Piano - Hwa-Won Pyun, violin - Lena Wignjosaputro, cello

| | |
| --- | --- |
| GEN 12241 | |
Leibniz Trio

Works for Piano Trio by Antonín Dvorák, Joseph Finlay and Frank Martin

Leibniz Trio - Nicholas Rimmer, Piano - Lena Wignjosaputro, cello - Hwa-Won Pyun, violin

| | |
| --- | --- |
| GEN 11208 | |
Works by L. van Beethoven, D. Schostakowitsch and A. Pärt

Deutscher Musikwettbewerb Laureates 2006

Nils Mönkemeyer, Viola - Nicholas Rimmer, Piano

| | |
| --- | --- |
| GEN 88115 | |