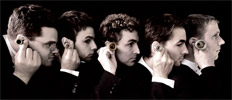 Elbeblech, Brass Quintett
If you think of Elbeblech (Elbe Brass) as old metal lying at the bottom of the Elbe river, you're quite mistaken!
Elbe Brass are five young, lively and highly enthusiastic musicians playing their brass instruments - the source of all their enthusiasm. The initially nameless quintet, whose members all lived in Hamburg, was formed in 2004. These five individual talents met to make music together and soon realised that the group gelled socially, as well as musically. During this time, when the joy of playing together was more at the forefront of their minds than any plans for the future, the quintet received an opportunity to perform at the Schleswig-Holstein Music Festival. After this first foray into the spotlight of performance, the group quickly chose a name. Elbe Brass was born and soon they had organised further concerts. Since then they have been a singular success story, firstly in northern Germany, but nowadays in all regions of the republic. The music of Elbe Brass is deliberately diverse, playing classical music as well as jazz and lighter pieces. The ensemble takes great care that the works performed are not only highlights of their genre, but also rarities from the world of brass chamber music. This can be heard through their own series of sheet music, from which are drawn some of the works on this CD.
This first compilation is the result of intensive planning, concentrated rehearsing, recording and—above all else—the joy of making music.

The Artist's Homepage:
http://www.elbeblech.de/

Anhörn! Listen!

Works by Bach, Mendelssohn, Schostakowitsch, Koetsier, Lutoslawski and Others

Elbeblech, Brass Quintett

| | |
| --- | --- |
| GEN 88114 | |