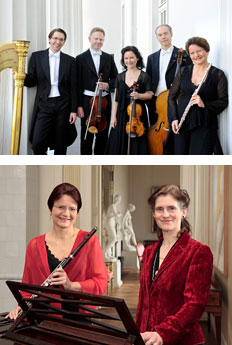 Flute, String Trio and Harp —five young musicians from Hamburg came together in 1995 to form the Ensemble Obligat—a highly attractive and unusual instrumental combination. The ensemble was founded by the flutist Imme- Jeanne Klett.
The basic idea was to enrich the cultural landscape with a new colour—with a professional ensemble in this charming and hardly everyday combination, the sound of which is primarily marked by the interplay of flute and string instruments. Anke Dennert, harpsichordist and specialist for historical keyboard instruments, also belongs to the Ensemble Obligat —a CD with works for flute and harpsichord has also been issued by GENUIN, Leipzig (GEN 86070) under the title Sanssouci—Versailles.
The ensemble's wide-ranging repertoire extends over all epochs of musical history, from the baroque solo or trio sonata with harpsichord and the classical quartet for flute and string trio (in an expanded instrumentation as string sextet) up to—especially—modern compositions and works of French impressionism also incorporating the sound of the harp. Performing chamber music of all periods in the most variegated tone colours and combinations is the musicians' principal concern.
Well-planned programming is just as much a part of their concept as the combination of music and recitation; the ensemble has performed enthusiastically received concerts with renowned actresses and actors such as Christiane Hörbiger and Christoph Bantzer.
Since its founding, the Ensemble Obligat has appeared in numerous concerts of renowned event-series and festivals, such as frequent performances at the Schleswig-Holstein Music Festival, the Lower Saxon Music Days, the Hohenlohe Cultural Summer and many others, and has made broadcasts on a regular basis as well. Broadcasts have been repeatedly made
over the NDR, Hessian Broadcasting and Radio Bremen.
New, interactive forms of presentation give the ensemble's performances their special colour; in lecture-concerts, the listener feels included and taken along on the musical journey— more or less obligatory (Obligat), just like each of the musicians.

The Artist's Homepage:
http://www.ensemble-obligat.de

Sanssouci-Versailles

Virtuoso Music for Flute and Harpsichord

Ensemble Obligat

| | |
| --- | --- |
| GEN 86070 | |
Flûte et Cordes

Works by Scarlatti, Mozart, Schubert and Debussy for Flute, Harp, Violin, Viola and Cello

Ensemble Obligat

| | |
| --- | --- |
| GEN 86069 | |