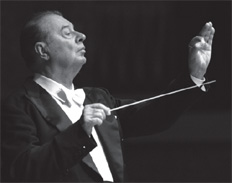 Rafael Frühbeck de Burgos, Conductor
Rafael Frühbeck de Burgos was born in Burgos, Spain in 1933. He studied violin, piano and composition at the Bilbao and Madrid Conservatories and continued his studies at the Munich Hochschule für Musik (conducting with K. Eichhorn and G. E. Lessing and composition with Hindemith scholar H. Genzmer). After serving in his first career post as Principal Conductor of the Bilbao Symphony Orchestra, he was named Principal Conductor of the Spanish National Orchestra Madrid, conducting the orchestra from 1962 to 1978. He was General Music Director of the City of Düsseldorf and Principal Conductor of both the Düsseldorf Symphony Orchestra and the Symphony Orchestra Montreal. He has also conducted the Yomiuri Nippon Orchestra of Tokyo and the National Symphony Orchestra Washington as Principal Guest Conductor. Rafael Frühbeck de Burgos has performed with more than 100 orchestras in Europe, America, Canada, Japan and Israel. He has also conducted opera performances in Europe, the United States and South America. From 1991 to 1996 he was Principal Conductor of the Vienna Symphony Orchestra and held the post of General Music Director of the Deutsche Oper Berlin between 1992 and 1997. He was also Principal Conductor of the Radio Symphony Orchestra Berlin from 1994 to 2000 and was appointed Principal Conductor of the Orchestra Sinfonica Nazionale della RAI Torino in 2001.
Rafael Frühbeck de Burgos has received numerous honors and distinctions for his artistic achievement, including an honorary doctorate from the University of Navarra and the University of Burgos in Spain. In 1996 he was awarded the "Silver Badge" for the service to the Republic of Austria and the Gold Medal from the International Gustav Mahler Society. In 1997 he received the most important Spanish music award, the Jacinto Guerrero Award, and in 1998 was appointed Emeritus Conductor of the Spanish National Orchestra.
Frühbeck de Burgos was appointed Principal Guest Conductor of the Dresden Philharmonic in 2003, one year later assuming the post of Principal Conductor and Artistic Director. More than 100 recordings testify to his worldwide reputation.
Some of these recordings have already become classics: Mendelssohn's "Elias" and "Paulus", Mozart's "Requiem", Orff's "Carmina Burana", Bizet's "Carmen" as well as the complete works of his fellow countryman Manuel de Falla. His first recording with the Dresden Philharmonic of Richard Strauss's "Don Quixote", "Don Juan" and "Till Eulenspiegel" was released in 2004.

Anton Bruckner

Sinfonie No. 3

Dresdner Philharmonie - Rafael Frühbeck de Burgos, Conductor

| | |
| --- | --- |
| GEN 87086 | |
Encore!

Well-known encores by Johann Strauß, Brahms, Dvorak, Weinberger and Bizet

Dresdner Philharmonie - Rafael Frühbeck de Burgos, Conductor

| | |
| --- | --- |
| GEN 87081 | |