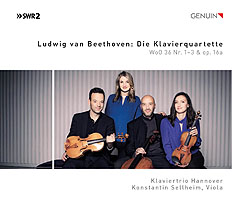 | | |
| --- | --- |
| Ludwig van Beethoven (1770–1827) | |
| Quartett C-Dur für Klavier, Violine, Viola und Violoncello, WoO 36,3 (1785) | |
| Allegro vivace | |
| Adagio con espressione | |
| Rondo. Allegro | |
| Ludwig van Beethoven | |
| Quartett Es-Dur für Klavier, Violine, Viola und Violoncello, WoO 36,1 (1785) | |
| Adagio assai | |
| Allegro con spirito | |
| Thema. Cantabile – Variazioni I-VI – Thema. Allegretto | |
| Ludwig van Beethoven | |
| Quartett D-Dur für Klavier, Violine, Viola und Violoncello, WoO 36,2 (1785) | |
| Allegro moderato | |
| Andante con moto | |
| Rondo. Allegro | |
| Ludwig van Beethoven | |
| Quartett Es-Dur für Klavier, Violine, Viola und Violoncello op. 16a (1796/1810) | |
| Grave – Allegro, ma non troppo | |
| Andante cantabile | |
| Rondo. Allegro, ma non troppo | |
| | |
Ludwig van Beethoven: Piano Quartets
WoO 36 No. 1–3 & Op. 16a
Klaviertrio Hannover
Konstantin Sellheim, Viola


In stock, shipping in 1-2 days.

We offer free shipping worldwide!
Please read our General Terms and Conditions and Privacy Statement carefully.








We wonder whom we should admire the most: the composer Ludwig van Beethoven, who at the age of fifteen wrote such consummate, sparkling, and profound music, or the Hanover Piano Trio, which with violist Konstantin Sellheim has so immaculately recorded the young master's quartets on this GENUIN release. The four internationally sought-after artists demonstrate a great understanding of historically-informed performance practice, dedicating themselves with panache and at a high level to an oeuvre that deserves more attention—perfect timing for the Beethoven anniversary year!