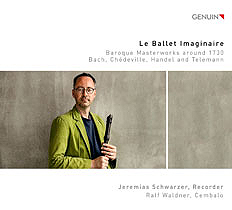 | | |
| --- | --- |
| Johann Sebastian Bach (1685–1750) | |
| Partita in C minor, after BWV 997 | |
| Preludio | |
| Fuga | |
| Sarabande | |
| Gigue-Double | |
| Nicolas Chédeville (1705–1782) | |
| Sonata in G minor Il Pastor Fido | |
| Vivace | |
| Fuga da Capella | |
| Largo | |
| Allegro ma non presto | |
| Georg Philipp Telemann (1681–1767) | |
| Fantasia X pour flute seule, TWV 40: 2–13 | |
| A Tempo Giusto | |
| Presto | |
| Moderato | |
| George Frideric Handel (1685–1759) | |
| Sonata in B-flat major, HWV 377 | |
| Air | |
| Adagio | |
| Allegro | |
| Johann Sebastian Bach | |
| Sonata in A minor, BWV 1020 | |
| Allegro | |
| Adagio | |
| Allegro | |
| Georg Philipp Telemann | |
| Fantasia III pour flute seule, TWV 40: 2–13 | |
| Largo—Vivace—Largo—Vivace | |
| Allegro | |
| George Frideric Handel | |
| Sonata in F major, HWV 369 | |
| Grave | |
| Allegro | |
| Alla siciliana | |
| Allegro | |
| Georg Philipp Telemann | |
| Trio Sonata in B-flat major, TWV 42: B4 | |
| Dolce | |
| Vivace | |
| Siciliana | |
| Vivace | |
| Georg Philipp Telemann | |
| Fantasia XI pour flute seule, TWV 40: 2–13 | |
| Allegro—Adagio—Vivace | |
| Allegro | |
| Johann Sebastian Bach | |
| Sonata in A major, BWV 1032 | |
| Vivace | |
| Largo e dolce | |
| Allegro | |
| | |
Baroque Masterworks around 1730
Bach, Chédeville, Handel and Telemann

Jeremias Schwarzer, Recorder
Ralf Waldner, Cembalo


In stock, shipping in 1-2 days.

We offer free shipping worldwide!
Please read our General Terms and Conditions and Privacy Statement carefully.








On his new GENUIN CD, Jeremias Schwarzer allows his recorder to dance: Le Ballet imaginaire is the name of this production that brings together Baroque masterpieces by Bach, Chédeville, Telemann, and Handel. Schwarzer's ideally-matched partner, who is one of his instrument's leading exponents, is Ralf Waldner on the harpsichord. The two artists not only dance through this enchanting and spirited music with lightness and vitality, but also make it sing and speak. Originals and counterfeits, kings and opera princes, love songs and sparkling virtuosity – a ballet full of passions!






WDR 3
"Le Ballet Imaginaire": festlich und leicht. Jeremias Schwarzer und Ralf Waldner spielen grazil, elegant und feinsinnig"
CD of the week (1.7.-5.7.) on WDR 3. Listen to the broadcast here on the website of WDR 3.