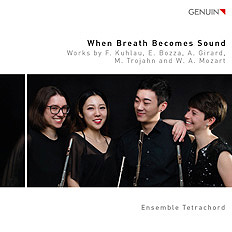 | | |
| --- | --- |
| Friedrich Kuhlau (1786–1832) | |
| Quartet in E minor, Op. 103 (1829) | |
| Andante maestoso. Allegro assai con molto fuoco | |
| Scherzo. Allegro assai | |
| Adagio molto con espressione | |
| Rondo. Allegro assai | |
| Eugène Bozza (1905–1991) | |
| Deux Esquisses (1972) | |
| Les sons et les parfums dans la plaine | |
| Refl et dans le vent | |
| Anthony Girard (1959) | |
| Printemps des rivières (1994) | |
| Manfred Trojahn (1949) | |
| Épitaphe (1986) | |
| Wolfgang Amadeus Mozart (1756–1791) | |
| Andante for Mechanical Organ in F major, K. 616 (1790/91) | |
| | |
When Breath Becomes Sound
Works by F. Kuhlau, E. Bozza, A. Girard, M. Trojahn and W. A. Mozart

In stock, shipping on January 7th.

We offer free shipping worldwide!
Please read our General Terms and Conditions and Privacy Statement carefully.








The four flutists of the German-Chinese Ensemble Tetrachord from Düsseldorf produce much more than just hot air on their GENUIN debut CD. The chamber music pieces, which they have cleverly compiled, have a grounded, feather-light sound. From Friedrich Kuhlau, who does not come across on this CD as an old master at all, but as sparkling and masterly, to the ethereal chords of Mozart's Andante for barrel organ. From the impressionistic sounds of Eugène Bozza to the soundscapes and clusters of Anthony Girard and Manfred Trojahn – all in all, an electrifying discovery!