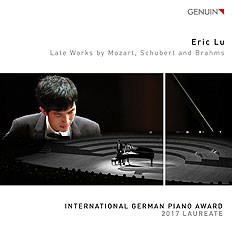 | | |
| --- | --- |
| Wolfgang Amadeus Mozart (1756–1791) | |
| Rondo in A minor, K. 511 (1787) | |
| Franz Schubert (1797–1828) | |
| Four Impromptus, Op. 90, D 899 (1827) | |
| Impromptu in C minor | |
| Impromptu in E-flat major | |
| Impromptu in G-flat major | |
| Impromptu in A-flat major | |
| Johannes Brahms (1833–1897) | |
| Six Pieces for Piano, Op. 118 (1893) | |
| Intermezzo in A minor. Allegro non assai, ma molto appassionato | |
| Intermezzo in A major. Andante teneramente | |
| Ballade in G minor. Allegro energico | |
| Intermezzo in F minor. Allegretto un poco agitato | |
| Romanze in F major. Andante | |
| Intermezzo in E-flat minor. Andante, largo e mesto | |
| | |
Late Works by Mozart, Schubert and Brahms

In stock, shipping in 1-2 days.

We offer free shipping worldwide!
Please read our General Terms and Conditions and Privacy Statement carefully.








Late works played by a young achiever: The up-and-coming American pianist Eric Lu plays major works of music on his first GENUIN CD. With this, he casts a spell on us from the distant opening bars of Mozart's A minor Rondo! Schubert's Impromptus also come from a different world and with Brahms piano pieces op. 118 he lets the autumn of Romanticism blow over to us. Listening to these recordings, one can understand why he not only won the International German Piano Award 2017, but also the Chopin Competition and, and, and, and... Transcendent!


ResMusica / 5.5.2018
"Empreint d'un enthousiasme juvénile, mais aussi de moments d'une tristesse indicible, ce début discographique d'Eric Lu est vraiment convaincant, et devrait intéresser tous les amateurs de piano." Read the whole review here on the website of ResMusica.