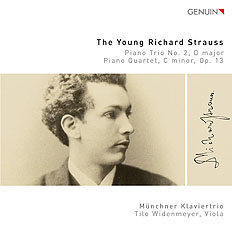 | | |
| --- | --- |
| Richard Strauss (1864–1949) | |
| Piano Trio No. 2, D major (1878) | |
| Allegro moderato | |
| Andante cantabile ma non troppo | |
| Scherzo. Allegro assai – Trio | |
| Finale. Lento assai - Allegro vivace | |
| Richard Strauss | |
| Piano Quartet, Op.13, C minor (1884) | |
| Allegro | |
| Scherzo. Presto – Molto meno mosso – Tempo I | |
| Andante | |
| Finale. Vivace | |
| | |
The Young Richard Strauss
Piano Trio No. 2, D major · Piano Quartet, C minor, Op. 13
Münchner Klaviertrio
Tilo Widenmeyer, viola


In stock, shipping on January 7th.

We offer free shipping worldwide!
Please read our General Terms and Conditions and Privacy Statement carefully.








How often have the three musicians of the Munich Piano Trio opened our ears with unique music! The new, the 9th GENUIN CD of the renowned ensemble is also a voyage of discovery to works that one encounters very rarely in the concert hall. And since the composer is none other than Richard Strauss (1864–1949), the credit for the musicians is even greater! We become acquainted with two youthful works, namely a piano trio from 1878 and a piano quartet from 1884. The Munich Piano Trio plays the music, which is worth listening to and masterfully composed, with verve and at the highest standard—entirely worthwhile!