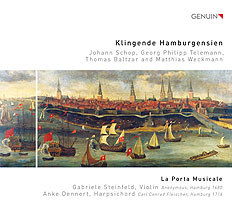 | | |
| --- | --- |
| Johann Schop (1590–1667) | |
| 't Uitnement Kabinet | |
| Sine titulo | |
| Georg Philipp Telemann (1681–1767) | |
| Sonata 1 in G minor TWV 41:g1 | |
| from: Six Sonates à Violon seul acompagné par le Clavessin | |
| Johann Schop | |
| 't Uitnement Kabinet | |
| Lachrime pavaen | |
| Als Jupiter gedacht | |
| Nobelman | |
| Georg Philipp Telemann | |
| Sonata for Violin and Basso continuo in F major TWV 41:F4 | |
| from: Essercizii Musici | |
| Thomas Baltzar (1631–1663) | |
| Praeludium in C minor | |
| Thomas Baltzar | |
| Allemande in G minor | |
| Matthias Weckmann (1616–1674) | |
| Four Variations on the Song "Die lieblichen Blicke" | |
| Georg Philipp Telemann | |
| Sonata 3 for Violino and Basso continuo in E minor TWV 41:e2 | |
| from: 12 Sonate Metodiche, Opera XIII | |
| Johann Schop | |
| 't Uitnement Kabinet | |
| Almande | |
| Courante | |
| Georg Philipp Telemann | |
| Partita 4 in G minor TWV 41:g2 | |
| from: Die kleine Cammer-Music | |
| Johann Schop | |
| 't Uitnement Kabinet | |
| Nasce la pena mia | |
| | |
Works by Johann Schop, Georg Philipp Telemann, Thomas Baltzar and Matthias Weckmann
La Porta Musicale
Gabriele Steinfeld, Violin
Anke Dennert, Harpsichord


In stock, shipping in 1-2 days.

We offer free shipping worldwide!
Please read our General Terms and Conditions and Privacy Statement carefully.


The works by Georg Philipp Telemann and his north German colleagues presented on this GENUIN release, featuring Baroque violinist Gabriele Steinfeld and harpsichordist Anke Dennert, reveal no hint of the coolness associated with the Hanseatic city. The full range of passion from an epoch overflowing with artistic energy is captured by the two musicians, on instruments that were already being played on the Elbe when the young Telemann was demonstrating his almost southern temperament in the city. What's more, their violin from 1680 and harpsichord from 1716 tell us gripping musical tales by Johann Schop, Matthias Weckmann, and Thomas Baltzar. In Telemann's own words: let us come forth and be joyful!