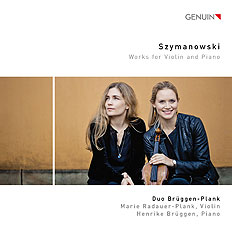 | | |
| --- | --- |
| Karol Szymanowski (1882–1937) | |
| Sonata in D minor, Op. 9 | |
| Karol Szymanowski | |
| Mythes. Three Poems, Op. 30 | |
| Karol Szymanowski | |
| Danse paysanne from the ballet Harnasie, Op. 55 | |
| Karol Szymanowski | |
| La berceuse d'Aitacho Enia, Op. 52 | |
| Karol Szymanowski | |
| Chant de Roxane from the opera King Roger | |
| Karol Szymanowski | |
| Nocturne and Tarantella in E minor, Op. 28 | |
| | |
Works for Violin and Piano
Marie Radauer-Plank, Violin
Henrike Brüggen, Piano


In stock, shipping in 1-2 days.

We offer free shipping worldwide!
Please read our General Terms and Conditions and Privacy Statement carefully.




The thrilling contrasts in a composer's oeuvre are presented by Marie Radauer-Plank (violin) and Henrike Brüggen (piano) on their first GENUIN release. The two artists bring the world of the great Karol Szymanowski, whose death anniversary will be commemorated on March 29, 2017, to life before our ears. His music reflects the spirit of his time while drawing inspiration from ancient sources. It derives its power from the traditions of his homeland, but remains universal. And all of this can be heard in the playing of the two young, international prize-winning musicians: sophisticated yet down-to-earth, incredibly sensual yet clearly structured – a true discovery!


Gramophone
"They too enter Szymanowski's mystical world with ease and a sense of wonder."
Review by Rob Cowan, published in Gramophone, May 2017

BBC Radio
In April 2017 BBC Radio 3 presented the CD of the Duo Bruggen-Plank.