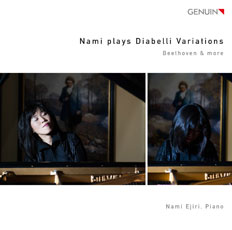 | | |
| --- | --- |
| Anton Diabelli | |
| From "50 Variations on a Waltz by Diabelli" | |
| Theme | |
| Variation 04 by Carl Czerny | |
| Variation 16 by Johann Nepomuk | |
| Variation 18 by Friedrich Kalkbrenner | |
| Variation 24 by Franz Liszt | |
| Variation 26 by Ignaz Moscheles | |
| Variation 20 by Joseph Kerzkowsky | |
| Variation 28 by Franz Xaver Wolfgang Mozart (Wolfgang Amadeus Mozart, Jr.) | |
| Variation 38 by Franz Schubert | |
| Coda by Carl Czerny | |
| Ludwig van Beethoven (1770–1827) | |
| 33 Variatons on a Waltz by Anton Diabelli (Diabelli Variations), Op. 120 | |
| | |
Nami plays Diabelli Variations
Beethoven & more

In stock, shipping in 1-2 days.

We offer free shipping worldwide!
Please read our General Terms and Conditions and Privacy Statement carefully.


Nami plays on Virtuoso Diabelli Variations of the Romantic Era Diabelli's popular theme is not only the basis for Beethoven's famous cycle of variations, but also for umpteen variations by Liszt, Schubert, and, and, and ... Following up on her acclaimed debut recording, Nami Ejiri opens this GENUIN CD quite simply with this very theme. What follows is high pianism: refined, virtuosic, sensitive. From her grand piano, Nami lures all that which the aforementioned composers do in the variations, all of the things that enchanted Diabelli's contemporaries. The goal and climax are Beethoven's variations, of course, and with all of her talent Nami makes it clear..."