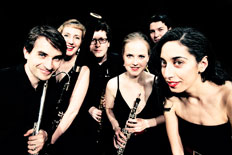 Berlin Counterpoint, woodwind quintet and piano
Berlin Counterpoint is an ensemble that has started turning heads in the musical world. Its music is marked by the cultural diversity of each of its members. Without resolving these differences, they achieve a harmonic virtuosity within their music which constantly reinvents itself – thanks to intelligent interpretations, a willingness to experiment and a refreshing sound – and engages a broad audience. The joy its six members take in music-making is palpable and audible, inviting its audiences on a journey of discovery.

Between them, these six musicians based in Berlin hold passports from Romania, Germany, the United Kingdom, Slovenia, the United States and Turkey. They are passionate risk-takers, united by their common language: the language of music. They bring all their different traditions to the musical experience, in order to arrive at their very own style. Since its founding concert in 2009, Berlin Counterpoint has given highly acclaimed concerts at the Schleswig-Holstein Music Festival, the Berlin Philharmonic, the Brandenburg Music Summer and the Rheingau Music Festival. Concert tours have taken them to the Sociedad Filarmonica de Bilbao, the Palau de la Música in Valencia, the Istanbul Music Festival, the March Music Days in Ruse (Bulgaria), as well as to Denmark and Mexico. In 2013 Berlin Counterpoint was awarded the Usedom Music Prize.

The reference to Berlin in the ensemble's name is not just due to the coincidence of their meeting there, but to the fact that Berlin is one of the few places where such a meeting of creative minds from such various backgrounds is not only likely, but extremely fruitful. It is the modern, multicultural, energetic and creative Berlin they represent. Their sparkling sound, consistent virtuosity and adventurous yet thoughtful interpretations owe much to their adopted home.

The second part of the ensemble name, Counterpoint, refers to its mission. In their chamber music work, its members consider themselves ambassadors of a form of life that might serve as a model for a healthy society. After all, like no other medium chamber music manages to provoke and sustain both leading and following. High-carat chamber music means recognizing when to lead – and to then lead with aplomb – and when to follow with abandon. Ultimately, this CD can also be understood as a social portrait from three centuries, in which thinkers and visionaries offered their contemporaries role models notated in staves. Counterpoint is not only the art of leading several independent melodic lines in parallel: while they may be independent in form and rhythm, they are joined by harmony. Counterpoint describes the longing of the free spirit in each of us for meaning and participation in contemporary society.
The Artist's Homepage:
http://de.berlincounterpoint.com/

Berlin Counterpoint

Works by S. Barber, L. van Beethoven, G. Connesson, F. Poulenc and R. Strauss

Berlin Counterpoint, woodwind quintet and piano

| | |
| --- | --- |
| GEN 14317 | |