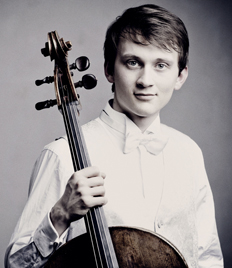 Benedict Kloeckner, Cello
Born in 1989, Benedict Kloeckner has won several prizes at international competitions such as the 2010 European Broadcasting Union Award in Bratislava, the
Grand Prix Emanuel Feuermann cello competition in Berlin, the Animato International Cello Competition in Zurich, the Swedish International Duet Competition, the International Brahms Competition in Pörtschach, Austria, and the 2008 European Prize for Young Artists of "Pro Europa". Klöckner has performed as a soloist with conductors such as Michael Sanderling, Howard Griffith, Pavel Baleff, Wojiech Raisky, Simon Gaudenz and Lukasz Borowicz and with renowned orchestras such as the Deutsche Staatsphilharmonie Rheinland-Pfalz, the Slovak Radio Symphony Orchestra, Rostock's Norddeutsche Philharmonie and the Bochumer Sinfoniker at such venues such as the Berlin Philharmonic, the Konzerthaus Berlin, the Tonhalle in Zurich, the "Mozarteum" in Salzburg and the Philharmonic Hall in Ljubljana, and at music festivals such as the Ludwigsburger Schlossfestspiele, the Schwetzinger Schlossfestspiele, the Festspiele Mecklenburg-Vorpommern, the Schleswig-Holstein Musik Festival and the Festival de Pollenca, Majorca. The young cellist has appeared in recital with chamber music partners including Gidon Kremer, Tatjana Grindenko, José Gallardo, and András Schiff and has been awarded scholarships from the Deutsche Stiftung Musikleben, the German National Merit Foundation, the foundation of the State Bank of Baden-Württemberg, and the Ritter Foundation. Benedict Klöckner studies with Martin Ostertag and has studied with Frans Helmerson within the Kronberg Academy Masters Program since October of 2009.
The Artist's Homepage:
http://www.benedictkloeckner.de/

Diversions

Works by Howard Blake (*1938)

Benedict Kloeckner, Cello - Howard Blake, Piano and Composition

| | |
| --- | --- |
| GEN 15346 | |
Works for Cello and Piano

by Richard Strauss, Françis Poulenc, Wolfgang Rihm

Benedict Kloeckner, Cello - José Gallardo, piano

| | |
| --- | --- |
| GEN 14313 | |
Robert Schumann

Cello Concerto in A minor, Op. 129

Deutsche Streicherphilharmonie - Michael Sanderling, Conductor - Benedict Kloeckner, Cello - Leander Kippenberg, Cello - Lukas Sieber, Cello - Michael Preuß, Cello

| | |
| --- | --- |
| GEN 11215 | |