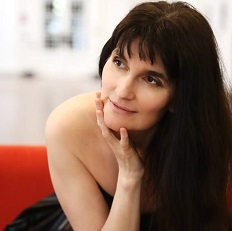 Eminent pianist Elisaveta Blumina belongs to a generation of young musicians who put the music centre stage and do not pander to every demand by the music business. This has not gone unnoticed and has earned her an ECHO Klassik award, together with her trio "Ensemble Blumina", (with Kalev Kuljus and Mathias Baier) for the best recording of chamber music composed in the 20th and 21st centuries.
As a child, pianist Elisaveta Blumina was a keen dancer and had a passion for the ballet. She had been accepted into the famous Vaganova Academy of Russian Ballet in St. Petersburg and was determined to become a ballerina. However, based on X-ray scans, doctors suggested to send her back to the music school for specially gifted children.
Elisaveta Blumina has been among the first musicians to seriously study the work of the Polish-Jewish composer Mieczyslaw Weinberg, a close friend and contemporary of Shostakovich. Her project to record a series of CDs with Weinberg's music has established her as a major factor in the recent renaissance of Weinberg's music in the west. Her chamber music partners in this endeavour include clarinet player Wenzel Fuchs, cellist Johannes Moser and violinist Kolja Blacher. Invitations by Gidon Kremer to perform and teach Weinberg's music in the Lockenhaus festival and at the Kronberg Academy naturally followed. Currently Elisaveta Blumina is recording Weinberg's complete piano solo works. A total of 24 CD recordings covering a broad repertoire have been enthusiastically received by the specialised press and earned Elisaveta Blumina a reputation as an extraordinary musician.
Besides her performing career Elisaveta Blumina has assumed the role, since 2012, of artistic director of both the International Chamber Music Festival Hamburg and the festival "Giluim" Musica Judaica Salzland in Schoenebeck on the Elbe (Germany). She began her studies in her native St. Petersburg, Russia, at the Conservatoire Rimsky Korsakov. She continued her studies at the University of Music and Theatre Hamburg and later at the Conservatoire in Berne (among her teachers were Sir András Schiff, Evgeni Koroliov, Radu Lupu and Bruno Canino) Elisaveta's career to- date has taken her from the halls such as the Berlin Philharmonic, Laeisz hall in Hamburg to Carnegie Hall in New York.
The Artist's Homepage:
http://www.blumina.com/

French Holidays

Works by C. Debussy, J. Françaix, G. Grovlez, G. Pierné, F. Poulenc, C. Saint-Saëns and C.-M. Widor

John Finucane, Clarinet - Elisaveta Blumina, Piano

| | |
| --- | --- |
| GEN 17451 | |
La flûte enchantée

Works by Claude Debussy, César Franck and Joseph Jongen

Hans-Udo Heinzmann, flute - Elisaveta Blumina, Piano

| | |
| --- | --- |
| GEN 14318 | |
Pierné . Gade . Prokofiev

Grand Sonatas for Flute

Elisaveta Blumina, Piano - Hans-Udo Heinzmann, flute

| | |
| --- | --- |
| GEN 10173 | |
Romantic Flute

Flute Sonatas by Max Meyer-Olbersleben, Julius Rietz and John Francis Barnett

Hans-Udo Heinzmann, flute - Elisaveta Blumina, Piano

| | |
| --- | --- |
| GEN 85517 | |