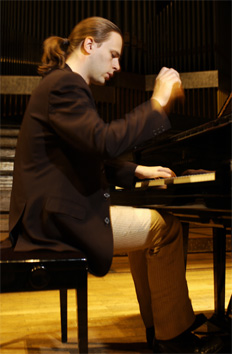 Since winning the 1st Prize at Brussel's prestigeous Queen Elizabeth Competition in 1995, Markus Groh has confirmed his position in the top echelon of the new generation of pianists.

Markus Groh has performed with numerous important orchestras such as the German Symphony Orchestra Berlin, the Stuttgart Radio Orchestra, MDR Symphony Orchestra Leipzig, Bamberg Symphony, Orchestra of the German Opera Berlin, Netherlands Philharmonic, Residence Orchestra (The Hague), Vienna Chamber Orchestra, San Francisco Symphony, Colorado Symphony, St. Petersburg Philharmonic, New Japan Philharmonic, the Tokyo Philharmonic, the National Orchestra of Belgium, Royal Philharmonic Orchestra of Flanders, Liège Philharmonic, the Lausanne Chamber Orchestra, Prague Symphonic Orchestra and the Orchestra of Spanish broadcaster RTVE.

Invited by the London Symphony Orchestra under the direction of Kent Nagano, he made his highly acclaimed London debut in May 2001, playing the 4th Piano Concerto by Ludwig van Beethoven. Since then he is regularly coming to London, for example for a recital at Wigmore Hall in January 2003.

Various debuts with U.S. orchestras followed in 2002: with the National Symphony Orchestra Washington, the San Francisco Symphony and the Fort Worth Symphony Orchestra, Texas. Then Markus Groh performed in Berlin and Cologne with the German Symphony Orchestra under the direction of Kent Nagano, followed by a tour with the Bamberg Symphony and recitals at the Austrian "Schubertiade Feldkirch", the German "Kissinger Summer Festival" and the "Ludwigsburger Schlossfestspiele", a festival held at the romantic Renaissance castle of Ludwigsburg". In 2003 Markus Groh started to perform with the Budapest Festival Orchestra (Ivan Fischer, 1st Piano Concerto by Johannes Brahms) and with the Philadelphia Orchestra under Neeme Järvi (Edvard Grieg, Piano Concerto).

The season 2003/04 focused on a Liszt project prepared at Leipzig and Cologne together with the MDR Symphony Orchestra under Fabio Luisi, and on various U.S. performances, (i.e. Detroit Symphony Orchestra, Symphony Orchestras of Québec, Phoenix/New Jersey, Kansas City, Florida, Alabama).


The Artist's Homepage:
http://www.markusgroh.com