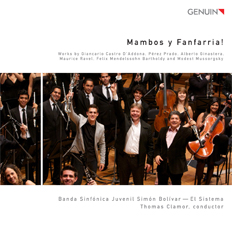 | | |
| --- | --- |
| Giancarlo Castro D´Addona (*1980) | |
| Grand Fanfare, Op. 7 | |
| Pérez Prado (1916–1989) | |
| Potpourri Pérez Prado: Qué Rico Mambo & Mambo No. 8 | |
| Alberto Ginastera (1916–1983) | |
| Danza Final (Malambo) from "La Estancia" | |
| Maurice Ravel (1875–1937) | |
| Bolero | |
| Felix Mendelssohn Bartholdy (1809–1947) | |
| Concert Piece No. 1 in F minor, Op. 113 | |
| Modest Mussorgsky (1839–1881) | |
| Pictures at an Exhibition | |
| | |
Werke von Giancarlo Castro D´Addona, Pérez Prado, Alberto Ginastera, Maurice Ravel, Felix Mendelssohn Bartholdy und Modest Mussorgski
Banda Sinfónica Juventil Simón Bolívar, Sinfonisches Blasorchester von El Sistema
Thomas Clamor, Dirigent

Auf Lager, Versand am 8. Januar

- keine Versandkosten! -


Sicherlich werden in Venezuela die Kinder mit dem Mambo im Blut geboren... Aber dass sie auch in größeren Orchestern bei ihrem Publikum für Temperaturanstieg sorgen können, ist erst seit etwa zehn Jahren international bekannt. Nun schickt sich auch Banda Sinfónica Simón Bolívar unter der Leitung von Thomas Clamor an, die Welt zu erobern. Die bei GENUIN erschienene CD mit Werken von Mendelssohn bis Mussorgsky, vom klassischen Konzertstück bis zu heißen Latin-Rhythmen kommt daher wie ein Wirbelwind: Lupenreine Intonation, überragender Klangsinn, gestochen scharfe Rhythmen... Man kann gar nicht anders, als vom ersten Takt der CD an im Geiste mitzutanzen: ¡Ay, qué rico!





American Record Guide
"... this disk is irresistible, and the sound is terrific."
Rezension im American Record Guide von Roger Hecht, 20.5.2013

eurowinds
"fulminante zweite CD"
Zweiseitige Besprechung im Magazin eurowinds, Ausgabe 4/2013

Ouverture
"Das ist Bläsermusik auf allerhöchstem Niveau. Bravi!"
Rezension im Klassik-Blog Ouverture, 7. Juli 2013

Fanfare
"... such is the degree of precision and polish that these young people bring to bear on this music. Recommended, then, to a far larger audience than just band enthusiasts, although certainly none of them will want to miss this disc."
Rezension im Magazin Fanfare 10/9/2013 von David DeBoor Canfield

Radio Orange
Am 17.05.2014 wurde die CD auf Radio Orange vorgestellt.